Last Updated: by Jeffrey Huber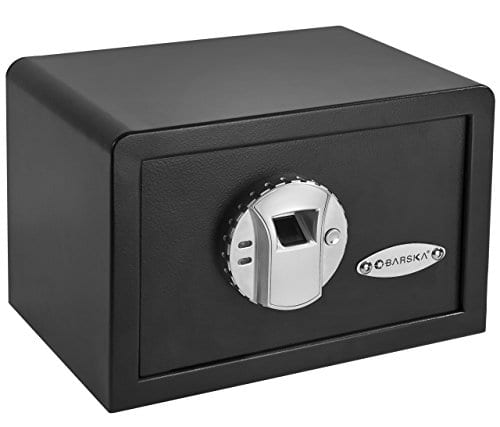 Owning a firearm comes with the responsibility of keeping it safe. In some states in America, particularly in California, the lack of a gun safe inside your home while keeping a firearm equal to your liability if the gun is stolen. Gun safes, in this manner should be of equally important as with your gun.
Gun safes are like your safety locker that keeps your firearm well-stored so that no burglars can get hold of it. Aside from its prime purpose of storage, gun safes are needed so that these firearms will be kept away from your children, reducing the chances of mishandling it.
However, not all gun safes are manufactured with the same quality and not all suit your own needs so choosing the right one for you requires you a lot of research.
Types of Gun Safes
Before getting into the real deal, here's a quick description of the different types of gun safes. These gun safes are classified according to the type of gun to be stored and the type of locking mechanism.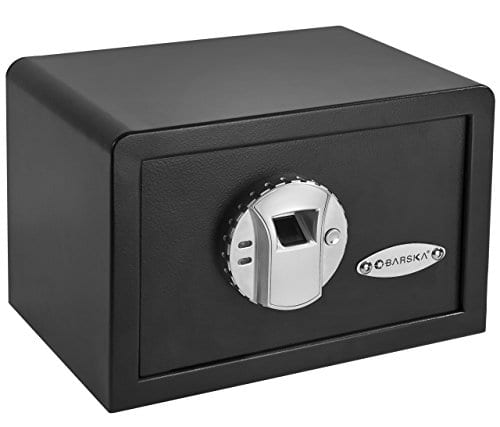 Biometric Gun Safes
The biometric gun safe types makes use of fingerprint as a locking mechanism. What's good about this type of safe is that it only takes seconds to open the gun safe because it only needs to recognize your fingerprint.
Also, if you allow few people to use the gun safe, you can have their fingerprints encoded so they too can access it. It's important to note as well that the biometric type of gun safes are sometimes sold that are not of high quality. If possible, buy from a reputable company.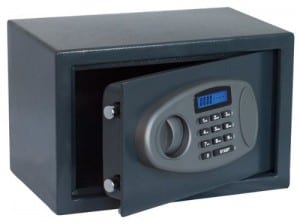 Electronic or Digital Gun Safes
If fingerprint locking and opening mechanism isn't something that you prefer, then this type of gun safe might suit you. To open this gun keeper, you only have to key in your programmed code on its digital dial pad.
Although they are convenient on your part, you must have a reserve battery ready because it mostly runs on battery. Like any code-protected safety, changing the combination every now and then will help you secure your gun more.
Dial Safes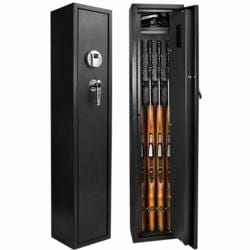 If you don't want to waste on power supply to secure your firearms, then dial safes are the best choice. It's safe as it can surely secure your gun inside, and it does not fail because it doesn't use any advanced technology in it. One thing that you'd probably dislike about this is that you cannot change the combination of the safe and opening it will take longer as compared to the first two mentioned above.
Long Gun Safes / Rifle Safes
Specifically made for large-sized guns, rifles, and multiple guns, this safe comes in different sizes and may depend on how many guns you intend to keep. Some brands include storage spaces for accessories and other valuable items you wish to stay safe.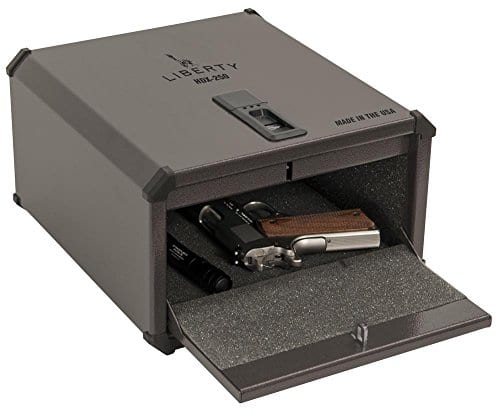 Handgun Safes
Smaller in size, handgun safes are specifically intended for small firearms such as pistols and handguns. This type of safe can come really small that you can even keep it inside a drawer. Most of the time, it's the cheapest gun safe available in the market.
Tips on Buying a Gun Safe
When buying a gun safe, a lot of research must be done first. As a buyer, you must be able to distinguish facts from merely marketing strategies. Being able to do so, will ensure you that you have the right value for you money. Buying a gun safe like having a lifetime investment, so when you get one make sure that it'll last for a lifetime.
To help you get started on choosing the right gun safe, here are some factors that you have to consider when buying:
The size of your Gun Safe
Remember that not all gun safes are created equal. If you think you have a lot more to store inside the safe aside from our firearm, then it is highly recommended that you buy a gun safe that is bigger than what you have in mind. A gun vault is normally a stand-alone gun safe in which you can store multiple (hand)guns, ammunition and other valuables. It's not a cheap purchase so invest a bit extra and stay happy with your new gun safe for a long time!
Built of your Gun Safe
A safe is safe when it can securely keep your items inside it. Gone are the days when gun safes are built with wood and glass wherein everyone can easily break through it and steal it. These days, gun safes are no made with metal so that no amount of pressure can break it. Choose a gun safe that is made of quality metal, usually a minimum of 11 gauge steel is already a good one.
If you intend to keep highly valuable items, hidden or wall safes are not really a good idea. While it's true that wall safe can really conceal your items, it is prone to burglars and fire. Why? Wall safes only provide fire protection up to the wall's sheetrock. Burglars are too knowledgeable these days that they can easily spot hidden and safe walls. If they see one, penetrating them won't be too hard.
Therefore, hidden or wall gun safes are good if you intend to keep your firearms and/or other items for only a brief period or if you want these dangerous items away from your children. Other valuable things need to be stored somewhere else more secure and safe.
Fire Rating
Oftentimes, buyers overlooked the fireproof gun safe criterion when choosing a gun safe. When choosing a safe and secured safe, a minimum of 1-hour fire rated gun storage is best. Gun safes that were rated have less than an hour of fire rating won't be sufficient enough to protect your gun safe from fire.
If you intend to keep important documents together with your firearm in a gun safe, you should look for a U.S. brand that has a certified fire rating of more than an hour in it. That way, you can be confident that your documents, as well as your gun, are securely safe inside the storage at the event of fire.
Fire seals are as equally important. Fire seals on the door keep most of the moisture out from coming inside the safe keeping your gun inside free from rust and corrosion. Also, fire seals will expand more during fire keeping fire, smoke, and water from entering.
Is it burglar safe?
Another thing to consider when buying a gun safe is its vulnerability to burglars. While fire-resistant safes can keep your valued firearms, documents and other valuable items safe during a fire, it doesn't necessarily follow that it is protected. Most fire resistant gun safe come in fragile metals that make it easy for them to be easily cut, sawed or punctured even with the simplest hand tools.
When shopping for a gun safe, it's best that you look for a fire-resistant, burglar safe and made of high-quality materials.
Type of lock?
This article had already enlisted the different types of gun safe according to its locking mechanism. Many buyers are usually confused as to which type should they use – an electronic or a dial lock? To help you decide on which of the two, here are some quick facts:
Mechanical or dial locks will require you to have it serviced at least every 5 years to keep it in good functioning. It doesn't require any battery or electric output to work.

Electronic locks come in sealed, and if it's opened, it no longer entitles you to avail the manufacturer's warranty. The only maintenance you do with it is to replace its battery to keep it running.

Redundant locks give you benefits of having a dial and electronic lock in one. This will ensure that you can still have your safe gun functioning even when one of those locking mechanism fails.
Budget
As with any buying guides and one of the prime considerations you should include is the amount of money you are willing to spend on a gun safe. If you are patient enough, then you might find a good bargain that'll cost you less than the market's price. See this overview for the best gun safe under 300 dollars.
A gun safe must be foremost, not easily penetrated by any brute force method. Typically, gun safe that offers such protection may cost you not least then a thousand, and the amount goes higher, depending on the size and fire protection. If you opt for a gun safe that is resistant to power tools and fire, then you must be willing to spend not less than $2,000 for it. If the safe is more substantial than a ton, then you'd be adding 20% to 80% more for its shipping and installation.
Warranty
Another essential factor that you should be looking into when buying a gun safe it the product's fine print. Warranties will save you on additional costs that might accrue should the item no longer functions properly. There are brands that only cover some parts of the safe while others only provide warranty on specific length of time.
If you are to look for a warranty, the one that offers lifetime coverage for its key parts and to some extent the whole gun safe is the best. However, this warranty is usually offered to the more expensive safes and may depend on where you live and the brand.
Gun Safety Tips and Quick Facts
Here are some important gun safety reminders to remember:
Research shows that guns kept in homes pose a tremendous and serious risk to the families. It has an increased chance of killing or injuring one of the members of the family or known to the family than hitting an intruder.

The increased risk of homicide triples while the risk of suicide increases to five times for those who keep guns in their homes.

If you have children, but you feel that you have to keep a gun in your home, be reminded that:

Keep the gun unloaded and stored properly.

Keep bullets in separate place or containers

Hide keys or ensure that your gun safe is out of children's reach.
When buying a gun safe, it is of great importance that you put ample amount of time. Spend your hard-earned money on a gun safe that features the size, functionalities , and protection you need for gun storage. If you don't have enough budget, you can always look into bargains and buy a used gun safe that suits your preferences. Gun safes are investments. They don't wear out over time quickly.
Do spend on a gun safe that is fire and burglar resistant. Don't just be enticed by manufacturer's marketing claims – be sure to decipher the truth from enticement. If you have to use sheetrock, ensure that it it's properly installed. If you intend to include other valuable items such as important documents, media files and others you should buy another fire-safe storage to serve as its double protection inside the gun safe.
Don't cling into one brand. Do many research brands as much as possible. It is always best that you have a lot of options. Different brands represent apparent differences among gun safes so choosing according to a brand will be easy for you.
Just because it is heavy and big doesn't necessarily mean it is safe and secured. Look further into the gun safe's specifications. Be reminded that heavy gauge steels are a far more resistant to cuts and drills as compared to light gauge steel, and so are thin walls.
Lastly, finding the right gun safe for you is not as easy as shopping for a pair of shoes. Everything that must be taken into consideration must be of equal importance. Make sure that they also meet the regulations within your state. If you can find the right one, make sure that you have a professional install it in your home, train other adults living with you on using the gun safe and educate children about gun safety.