Last Updated: by Jeffrey Huber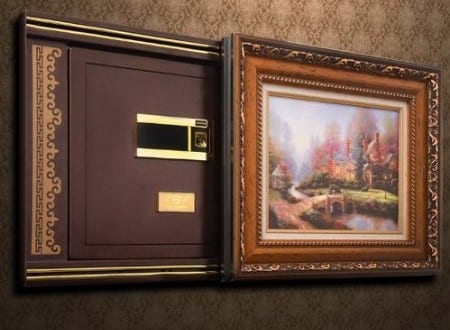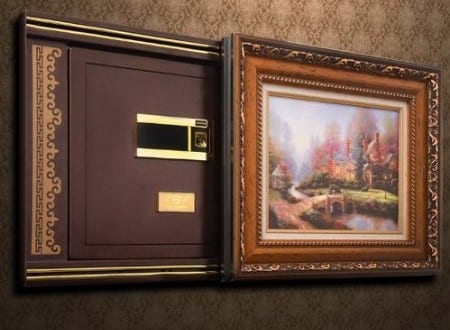 As a responsible firearms owner it's your responsibility to make sure that you have safely secured every single firearm (and all ammunition) that you own in your home and one of the best ways to do precisely that is to invest in a high-quality hidden wall gun safe.
What used to be a fun little feature in cartoons or crime movies has now become a the real staple of firearm ownership, as the right gun safe the application can save you a fantastic amount of floor space (and money) while at the same time giving you an extra layer of protection, safety, and security that a traditional gun safe never could.
After all,wall gun safes are designed from the ground up to be as invisible to the naked eye as possible – something that even the most secure traditional gun safe or gun cabinet can never pull off.
Here are a few things that you'll need to pay attention to before you "pull the trigger" on a gun safe!
Make sure you integrate the wall gun safe into your building plans
When you are building your gun safe you're going to want to do everything you can to get the specifications of this storage solution into your building plans, so that you can take advantage of the space without making it stick out like a sore thumb if you added it later.
After all, a hidden wall safe is only going to be effective if it is actually "hidden" – and when you have the chance to plot and plan its location before a single board is put up in your home you'll be able to find new and creative ways to hide it that wouldn't have been available later on.
You'll also be able to add special security features (reinforced doors or locks) that can be engineered right into the building itself, they giving you a custom the solution that you can tailor to your specific needs in ways that "off-the-shelf" products never could.
Tying closely into the information above, it's critical that you try to do everything you can to not put your hidden gun safe in an obvious area. Those spaces above the bed that are covered in a gigantic painting or a tapestry have been done to death, and criminals are looking in those areas on a routine basis now because they know (more often than not) they will hit the jackpot and stumble upon a hidden safe that isn't so hidden after all.
Really consider the location of your new invisible gun safe before you begin to construct it, and even think about using everyday materials or pieces of furniture in your home or space to camouflage the location. Some people have even gone as far as building an invisible gun safe into an old water heater – complete with false pipes acting as the locking mechanism – to secure their gun safes.
There aren't going to be too many thieves checking your water tank for firearms.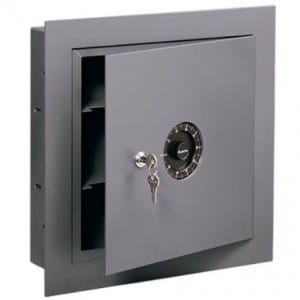 Too terribly often people get cute about hiding their gun safe and end up of obstructing access to it completely. This might not be all that big of a deal if your main intention is to stop criminals from discovering its location and potentially emptying it of its contents, but it's not going to be that great if you want to gain access to the firearms in the wall gun safe and emergency situation.
Obviously, speed and safety go hand-in-hand with one another and you'll end up maximizing one over another regardless of which direction you decide to go in – and it's also always a good idea to lean more toward safety than anything else.
Just make sure that you're not completely obstructing access to your hidden gun safe to the point where you won't be able to reach it comfortably or consistently if you need to retrieve firearms and emergency or not, as you'll eventually, begin to get tired of the routine, and that's where things start to go out little pear-shaped.
The last piece of the puzzle that we want to speak on is that you do everything you can verify that you have secured your gun safe every single time you use it. Sometimes, we tend to think "oh, well, it's completely hidden anyway…" which is one of the fastest ways to guarantee you have a firearm accident (or catastrophe) on your hands in a hurry.
Never let this happen by securing (verifying that you have secured) your wall gun safe every single time you use it.