Last Updated: by Jeffrey Huber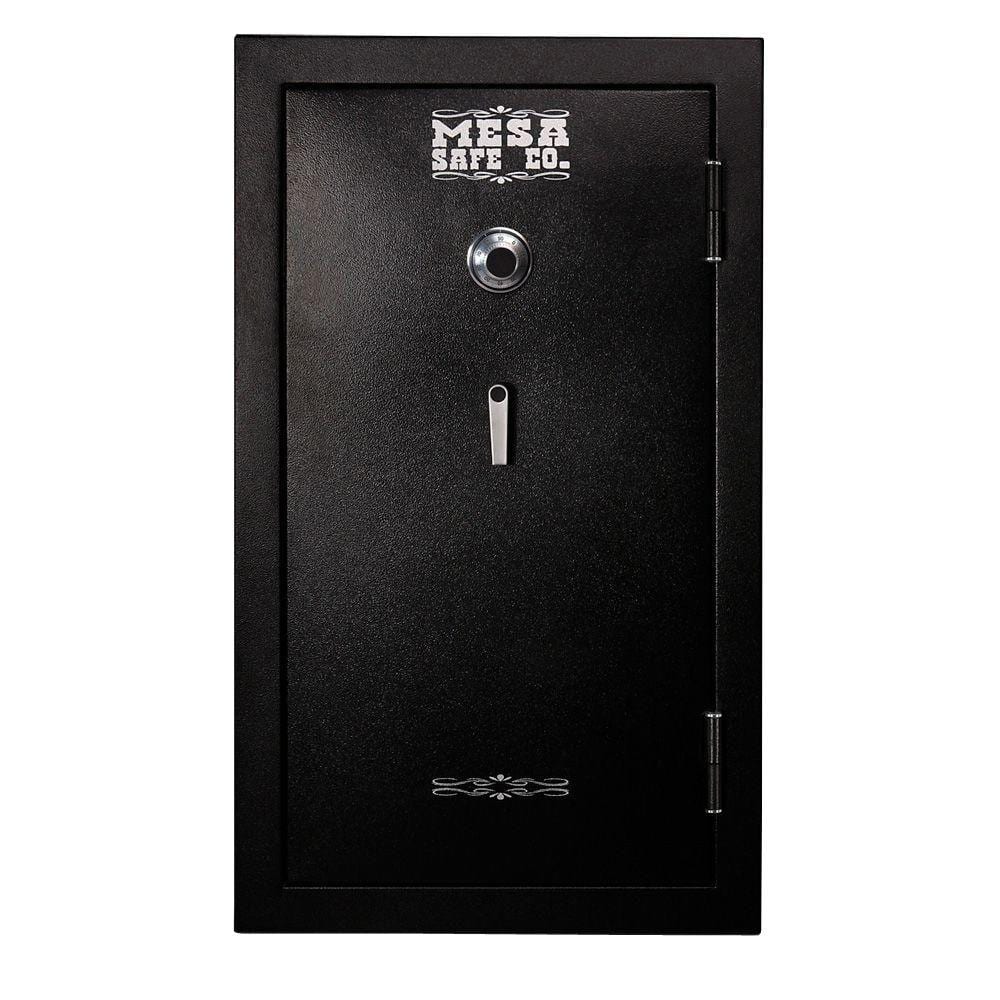 When it comes to purchasing a new gun storage solution or gun safe, there are several critical things you need to look for in a high-quality option.
One, it needs to be large enough to handle your entire firearm collection – as well as any other items you hope to store and protect inside of it. Two, it needs to protect your firearms from all elements – both natural (fire and flood, for instance) as well as humans. Three, it needs to have the kind of durability that you can trust in rely on across a day to day basis for years on end (and hopefully is the kind of solution that you can use for the rest of your life).
Finding a gun safe that meets these three critical criteria can be a bit of a headache and hassle, at least until you begin to look at the Mesa gun safes that are available.
An industry leader as far as a gun storage locker and safe solutions are concerned, Mesa states have been around for decades and are a favorite of severe and responsible firearm owners looking to store their precious collections while at the same time keeping each of their firearms out of the wrong hands.
Strong, durable, robust, as well as attractively designed, there is a reason why so many people own Mesa safes today – and why you'll want to look at these products as well before moving forward!
First Impressions from Mesa Gun Safes
Regardless of which of the three different Mesa model gun safes you decide to move forward with, you are going to be beyond impressed with the overall construction quality and innate durability that each of them brings to the table.
Constructed entirely out of 100% steel components to create an all-steel body, frame, and locking mechanism, you'll never have to worry about any compromises as far as strength is concerned when investing in Mesa safes.
In fact, most people that already own one of these options have reported that they feel like their Mesa safe is a bit of overkill – the safe that could withstand a direct attack from a heat-seeking missile and remain the only structure standing for miles around!
Obviously, you'll never want to find out if that legendary durability would ring true, but it's nice to know that there are gun safe manufacturers out there like Mesa that are focusing on high-quality components that last, and last, and last!
On top of that, each of the Mesa gun safes available is gorgeous to look at. Don't be surprised if you find yourself showing off your Mesa gun safe, even while you know that you should be doing everything you can to keep them out of sight to avoid tempting criminals even to try and crack into them.
Sure, they would be deterred anyways – but why take the risk?
Safety Features and Technology of Mesa Gun Safes
Utilizing several security measures (biometric fingerprint as well as a standardized digital keypad locking mechanisms), you're going to be able to rely on the full bar and pin locking mechanisms that secured with bolt technology throughout the door and frame of these systems.
There is no compromise whatsoever when it comes to the safety and security of your firearms, and you'll find that each of the three Mesa safes that are available for sale can be uniquely customized to take advantage of whatever locking mechanisms you feel most comfortable with.
The only drawback is that these options do not include "quick access" handgun or pistol drawers that are separate from the main locking mechanism, so you may want to consider investing in a high-quality personal defense gun safe as well.
Mesa Gun Safes Included Warranty
Every single Mesa safe sold carries a 100% complete and total lifetime guarantee and warranty to the the original owner of a Mesa gun safe. In the event of damage, defect, or malfunction, Mesa will provide a complete and total repair or replacement – making sure that every one of their customers is fully protected at all times.
Brand Reputation
Mesa continues to be a brand that puts their customers of both all other interests, innovating new gun safe solutions and systems to meet the demand of discerning clients today. If you're looking for a new gun safe option, you'll want to look closely at the safes and all of the big benefits that they bring to the table.