Last Updated: by Jeffrey Huber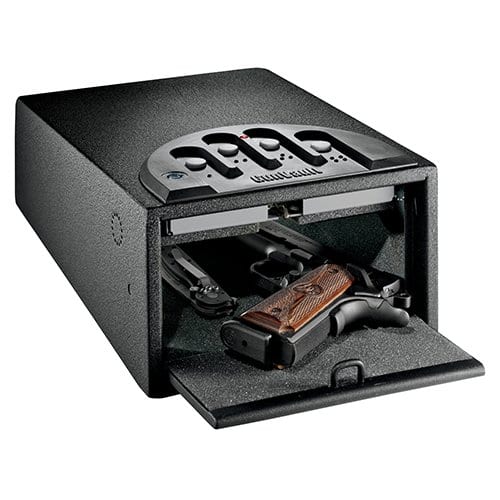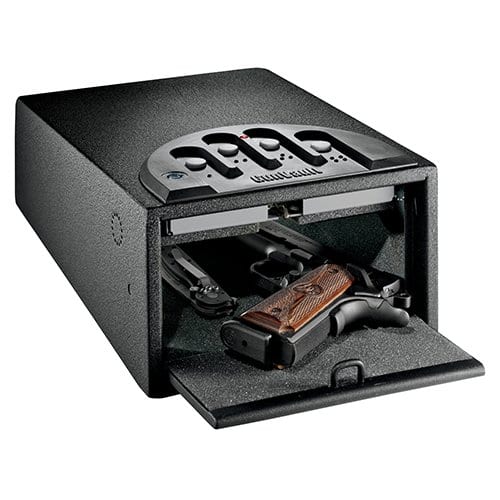 One of the most difficult challenges that firearm owners face regularly is choosing the right tools and technology to secure their firearms when they aren't using them.
And though trigger lock mechanisms and other storage solutions have gotten more and more advanced and effective over the years, the truth of the matter is the best handgun safe or long gun safe is always going to be the number one choice for protecting the firearms from others – and others from these firearms. Because we want to be able to grab our gun but we don't want anybody else (burglars and intruders) to be able to use our own guns!
At the same time, trying to find the best safe available is a nightmare scenario – not because there are so few options out there, but because there are so many. Combine this with the fact that very few are streamlined or effective at providing safety, security, and readily available ease of access in an emergency situation and that's how you hear so many stories about legitimate and responsible handgun owners not being able to access their handguns in an emergency situation.
How to find the best handgun safe?
Choosing the wrong handgun safe can put you in more danger than not having a handgun safe at all, simply because your access will be completely and totally restricted. Remember, you will not always have the opportunity to dictate when and where an emergency pops up and presents itself in your life – and if it is a life or death situation you'll want to make sure that you can get your hands on your pistol to protect yourself, your loved ones, and your property.
Paying close attention to the details below will help to make sure that you always end up with the best gun safe available for your specific needs, choosing the perfect blend of safety, security, and performance without having to make too many sacrifices (if any) at the same time. A mechanical lock (with a conventional key) will take longer to open your safe than with a fingerprint biometric lock mechanism.
Safety and security is everything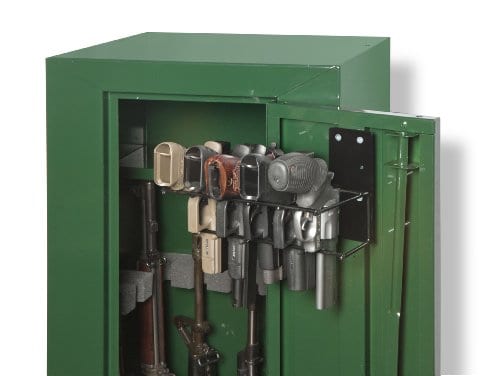 The safety and security of the handgun safe that you decide to invest in is absolutely everything when making your purchasing decision.
Obviously, you'll want to make sure that you are shopping for the best safe in your budget, but if there is a solution that costs just a bit more than you really feel comfortable with – but one that affords far more advanced safety and security measures and technology. It's always a good idea to stretch that budget and make the purchase, figuring out how to take care of the extra-budgetary concerns at a later date.
As a responsible firearms owner, you need to understand that handguns in the wrong hands can become devastating and dangerous tools of destruction. This is why it's so important to keep them secured in the right handgun safe whenever they aren't in use. Restricted access solutions that give you unlimited access but keep unwanted people away from your handgun is essential to finding the best gun safe.
High quality construction materials for your Handgun Safe
You should also make sure that you are investing in a handgun safe that is crafted out of the best possible construction materials available. Heavy gauge steel and space-age synthetics are the number one choice, which you may even want to consider built-in options that offer concealment as well as safety and security to get the most out of these types of products.
Sure, high-quality construction material handgun safe options are going to weigh considerably more than the lower quality solutions out there, but if this handgun safe option is going to be stored or installed stationary in your home or vehicle it should make little difference aside from the sweat you are going to expend while bringing it up to its final resting spot.
Look for accessories that add value to the safe
Finally, you'll want to choose the handgun safe available at your price point and that offers you the blend of safety and security you're looking for – but that doesn't mean that you need to compromise on the accessories that come with your new handgun safe.
Biometric scanners, fingerprint readers, handgun rack, magazine or ammunition storage compartments and a whole host of other options and accessories can add value to your safe. Not only will these accessories help to ease your mind when spending extra money on the best handgun safe out there, but it will also give you extra utility at the same time!