Last Updated: by Jeffrey Huber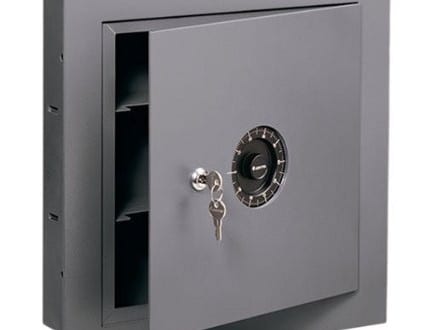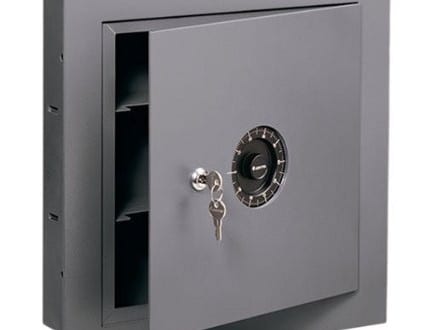 If you have been looking for a new gun safe or storage solution, but have discovered that there are a seemingly endless amount of safes out there on the the market today and are a little bit confused at which one to go with, understand that you are nowhere near alone.
In fact, millions and millions of responsible firearm owners all over the world (especially in the United States) have been struggling to choose one gun safe option from all available out there.
But when it comes down to comparing and contrasting different options to invest in, the three "must-have" gun safe features included below are the make or break components that you cannot compromise on.
If one of the gun vaults that you are interested in meets all three of these criteria and others do not, you'll be able to make your purchasing decision with ease.
Multiple security lock components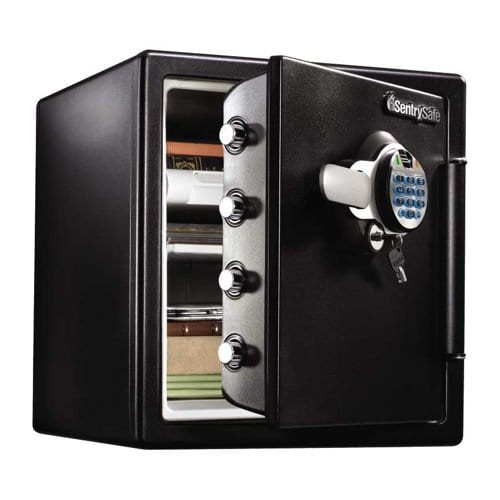 The very first thing that you should be looking for is not just the type of locking and security measures that they already have installed, but also how many locking and security measures that they have introduced.
Too many people look at those gigantic gun safes that resemble a miniature a version of a Fort Knox bank safe and think that they will be 100% secure behind that combination lock and "ships wheel." Nothing could be further from the truth.
Sure, a singular security and locking system is better than no locking the system at all – but if we know anything about single solutions it's that they fail, and without a reliable backup things can quickly become a little bit on the "sticky" side of the fence.
Not only should you be looking for multiple security lock components and systems (at least two, and three is even better), but you should also make sure that at least one of those security lock components is a manual override system that you can use at all times.
Biometric scanners, fingerprint readers, and near field connectivity locking systems are all the rage right now – but each of them require electricity and a fully functioning gun safe processor to operate. Combination locks, on the other hand, do not require any of those external resources and will work correctly if the power fails or a battery runs out.
You never want to have your firearm secured away without being able to access it for any reason, so make sure that a manual solution is included.
Luckily nowadays most recommendable brands manufacture their vaults with back up systems. Every biometric scanner, fingerprint reader, or electronic combination lock can be overridden with a mechanical key. The better gun vaults make sure that the keyhole is somewhere hidden, so that's not too obvious.
Fireproof capabilities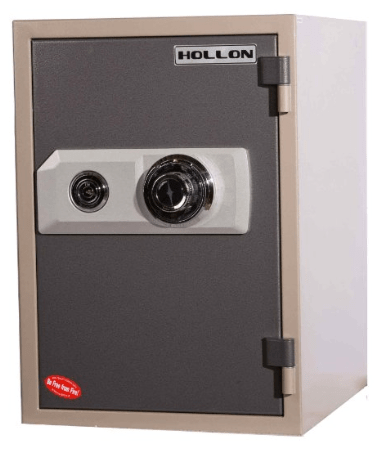 Especially if you want the best of the best, you also need to make sure that the gun vaults you are comparing have 100% fireproof capabilities, at least to some degree.
It's impossible to anticipate any of the emergency situations that we might find ourselves in later down the line, which is why we need to do everything in our power to expect the best but prepare for the worst.
By making sure that your gun vaults are fireproof you are guaranteeing the safety and security of not only your firearms but also the precious documents or valuables that you store right alongside them.
Gun owners very rarely use gun vaults exclusively for firearms, as they almost always become a "catchall" for valuables of all types that need to be secured away for their safety. A couple of hours of fireproof capability will help put your mind at ease when purchasing new gun vaults.
There are a few ratings for fireproof gun vaults, which are now common standards with all brands.
Ample space for future expansion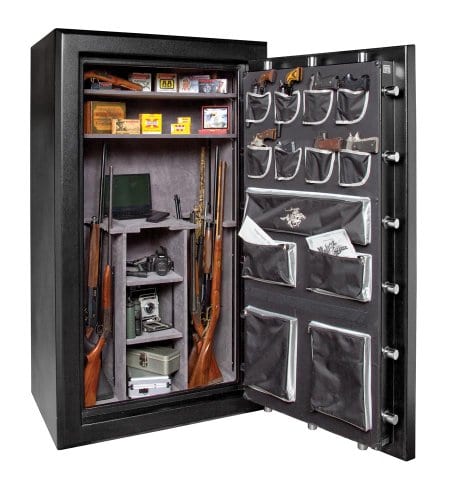 Finally, you're going to want to make sure that your new gun vaults are as "future proof" as possible.
Because they can be more than a little bit on the expensive side, you'll not want to keep purchasing new gun vaults on an annual or regular basis every time you need a bit of extra space.
Always buy at least one size larger than you expect to use at the point of purchase, and you should have ample room to continue to grow and expand your firearm collection without compromising the safety or security of those firearms (or yourself and your loved ones) at any point in time.
Also, maybe you don't think you have a lot of valuables, which you want to safely store in your gun vault, but that might be a bit different once you have the gun safe in your home. Don't just think about some jewelry but also about documents.